Thank you for visiting our website.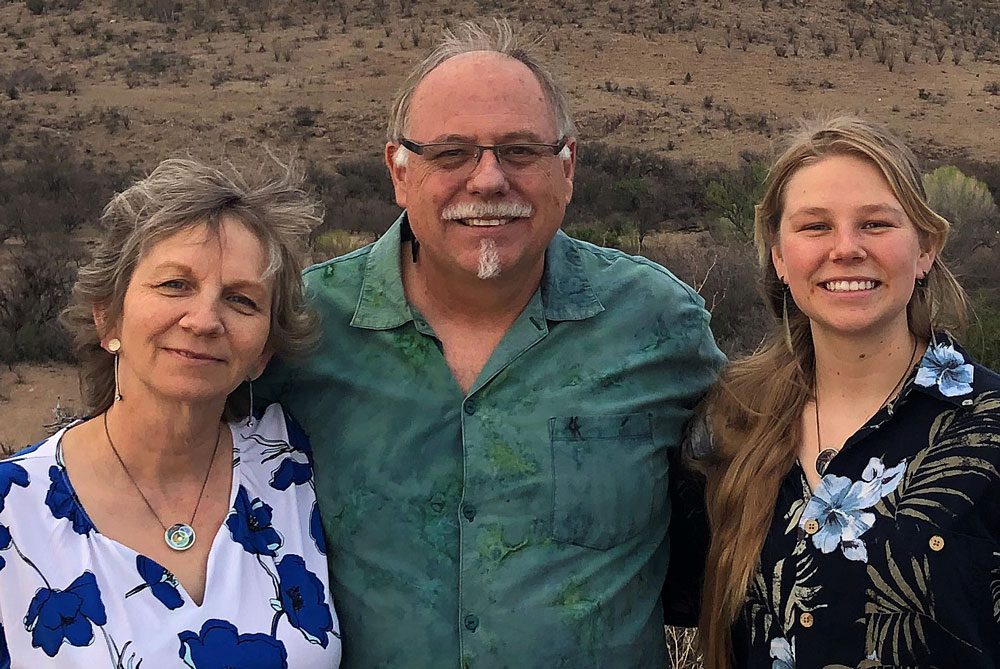 If you are interested in an item, please use the inquiry button within a product. I am a studio jeweler. Each piece is hand-fabricated in my Arizona studio with no outsourcing involved.
If you see a piece of jewelry on the portfolio page and are inspired to have something similar, we will gladly create a specific commission for you. Please get in touch with us via contact form.
All commission and custom pieces require a deposit. We accept credit cards either as convenient payment online by paying a Square invoice, emailed to you after you have contacted us via inquiry tab, or by paying with credit card over the phone.
Some galleries might have pieces, created specifically for them that are inspired by their region which are not shown on our website. To contact and purchase from a gallery, please visit the gallery's website in the list below or contact the gallery directly.
The Vaatz team – Kerstin, Wolfgang, Katja
The following Galleries proudly carry Wolfgang Vaatz's wearable art jewelry pieces:
---
Alaska
---
Gold Rush Fine Jewelry
531 2nd Ave., Fairbanks, AK 99701, Ph: 907.458.4991
Visit website
---
Arizona
---
Exposures International
561 Hwy 179, Sedona, AZ 86336, Ph: 928.282.1125
Visit website
French Designer Jeweler
7148 E. Main Street, Scottsdale, AZ 85251, Ph: 480.994.4717
Visit website
Rogoway Turquoise Tortoise Gallery
5 Calle Baca, Tubac, AZ 85646, Ph: 520.398.2041
Visit website
---
California
---
Bowers Jewelers
7860 Girard Ave., La Jolla, CA 92037, Ph: 858.459.3678
Visit website
Fritz and Mischell Jewelry
3965 Main Street # 1, Kelseyville, CA 95451, Ph: 707.363.6246
Visit website
Ladyfingers
Dolores near Ocean, Carmel, CA 93921, Ph: 831.624.2327
Visit website
Steve Schmier's Jewelry
760 North Lake Blvd., Tahoe City, CA 96145, Ph: 530.583.5709
Visit website
Wickersham Company
6521 Truxtun Ave. Bakersfield, CA 93309, Ph: 661.324.6521
Visit website
---
Colorado
---
Jewelry and Fossil Shop
745 Lincoln Ave., Steamboat Springs, CO 80477, Ph: 970.871.9963
Visit website
Jewels on Main Jewelers

121 South Main St., Breckenridge, CO 80424, Ph: 970.453.2110
Right Time International Watch Center
7110 East County Line Rd., Highlands Ranch, CO 80126, Ph.: 303.862.3900
Village Goldsmith, Inc.
235 West Elkhorn Ave., Estes Park, CO 80517, Ph: 970.586.5659
Visit website
---
Florida
---
Tilden Ross Jewelers
410 St. Armand's Circle, Sarasota, FL 34236, Ph: 941.388.3338
Visit website
---
Idaho
---
Jensen Stern
351 Leadville Ave., Ketchum, ID 83340, Ph: 208.726.2363
Visit website
McCall Jewelry Company
207 E. Lake St., McCall, ID 83638, Ph: 208.634.4367
Visit website
---
Illinois
---
Unicorn Designs
659 North Bank Lane, Lake Forrest, IL 60045, Ph: 847.295.5230
Visit website
---
Kansas
---
Burnells
550 North Rock Road, Wichita, KS 67206, Ph: 316.634.2822
Visit website
---
Maine
---
Cross Jewelers
570 Congress Street, Portland, ME 04101, Ph: 800.433.2988
Visit website
---
Montana
---
Shelly Bermont Fine Jewelry
32 Market Pl., Suite 1, Big Sky, MT 59716, Ph: 406.995.7833
Visit website
---
New Hampshire
---
The Kalled Gallery
33 North Main, Wolfeboro, NH 03894, Ph: 603.569.3994
Visit website
---
New Jersey
---
Trinkets
510 Carpenters Ln., Cape May, NJ 08204, Ph: 609.854.4489
Visit website
---
New Mexico
---
Emily Bernoist Ruffin Goldsmith & Fine Designer Jewelry
119 Bent St., Taos, NM 87571, Ph: 575.758.1061
Visit website
Sugarman-Peterson Gallery
130 W. Palace Ave., Santa Fe, NM 87501, Ph: 505.982.0340
Visit website
---
North Carolina
---
Donald Haack Diamonds
3900 Colony Road Ste. E, Charlotte, NC 28211, Ph: 704.859.2178
Visit website
---
Oregon
---
Art FX Fine Jewelry
45 East Main St., Ashland, OR 97520, Ph: 541.482.1499
Visit website
The Jewel In Sisters
221 West Cascade, Sisters, OR 97759, Ph: 541.549.9388
Visit website
---
Utah
---
Park City Jewelers
430 Main Street, Park City, UT 84060, Ph: 435.649.6550
Visit website
---
Washington
---
Facèré Jewelry Art
NOW LOCATED inside Green Lake Jewelry Works
550 NE Northgale Way, Seattle, WA 98125, Ph: 206.527.1108
25 Bellevue Way SE, Bellevue, WA 98004, Ph: 425.598.8900
Visit website
---
Wisconsin
---
Luxe Fine Jewelry
131 W Wisconsin Ave, Neenah, WI 54956, Ph: 920.486.3701
Visit website
---
Wyoming
---
Dan Shelley Jewelers
Gaslight Alley, Jackson Hole, WY 83001, Ph: 307.733.2259
Visit website
---